Are you generating leads - both high in quantity and quality? If not then please keep reading as it is a marketer's most important objective. A successful lead generation engine is what keeps the funnel full of prospects which help in the ultimate objective of converting them into customers. Surprisingly, only 1 in 10 marketers feel their lead generation campaigns are effective.
Every lead generation campaign has a lot of moving parts and often times it's difficult to know which parts need fine tuning. To understand what goes into a best-of-class lead generation engine, let's take a look into the mechanics of high performing lead generation campaigns.
The best lead generation campaigns contain most, if not all four, of these components. An inbound marketer needs these four crucial elements to make the lead generation happen: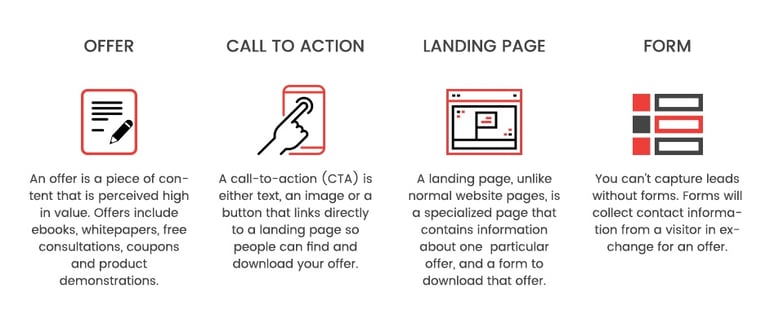 1. IRRESISTIBLE OFFERS
Yes. It's one of the most powerful words in the human language. And if you think about all the things we do as marketers, it's ultimately to get people to say "yes" to our offers.
When an offer is exclusive, scarce, or in high demand, it becomes more desirable. When people perceive the value of your offer to be greater than what you're asking for in return then the offer becomes irresistible for them.
Not all of your site visitors are ready to talk to your sales team or see a demo of your product. Someone at the beginning of the buyer's journey might be interested only in informational pieces like an ebook or a guide. Whereas someone who's more familiar with your company and is near the bottom of the cycle might be more interested in a free trial or demo. Make sure you're creating offers for each phase based on the buyer's journey.
Some examples of great offers which work as lead magnets include:
Training video series

Free trial

Webinars

ebooks

White papers

Checklists

An interview with an expert on a relevant topic
The offer must have enough value to a visitor so that they don't hesitate in providing their personal information in exchange for access to it.
2. ATTENTION GRABBING CALLS-TO-ACTION
Calls-to-action (CTA) are the secret sauce to driving people to your offers. If your CTAs aren't effective at capturing people's attention and persuading them to the click, then it makes the effort you put in for your offer useless.
CTAs can be used on product pages (non-landing pages), in display ads, email, social media, direct mail and pretty much anywhere you can market your offer.
But not all CTAs are created equal. Every brand is fighting for consumers attention, it's critical for you to be effective & relevant so that prospects choose your offer over your competitors.
3. LANDING PAGES THAT CONVERT
Landing pages are one of the most important elements of lead generation. In fact, according to MarketingSherpa's research, landing pages are effective for 94% of B2B and B2C companies. The use of landing pages enables marketers to direct website visitors to targeted pages. This helps you to capture leads at a much higher rate.
What's great about landing pages is that they direct your visitors to one particular offer which they are interested in without the distractions of everything else on your website. This way visitors come to your landing page only for the purpose of completing the lead capture form.
4. OPTIMIZED FORMS
Forms are the key to a landing page. There is no way to "convert" a visitor into a lead without them. Forms come in handy when it's time for people to sign-up, subscribe to your website or download an offer. The information you're asking for in your form should match up with the perceived value of the download/information you are offering. Try and keep the form as short as possible, only asking for the information required by your company at that stage of buying cycle.
Generating leads online has the power to transform your marketing. You will reduce your cost-per-lead by creating great offers, calls-to-action, landing pages, and forms. It will also help you deliver higher quality prospects to your sales team.
The basics herein are just the beginning.
Keep in close touch with your sales team to make sure you're handing off high-quality leads on a regular basis. Last but not least, never stop testing. The more you test every step of your inbound lead generation process & tweak it for updates, better will be you lead quality.