Take a look at these stats:
79% of marketing leads
never convert into sales. Lack of lead nurturing is the common cause of this poor performance. (MarketingSherpa)
Companies that excel at lead nurturing generate 50% more sales ready leads at 33% lower cost. – Forrester Research
So, you're generating enough leads. Well done for that! Now what? Smart marketers are aware that just generating leads doesn't guarantee marketing success. They know that lead nurturing is a critical ingredient of any effective marketing strategy. Why? Because
if you're not taking care of your customers, somebody else will!
And, lead nurturing will help you "take care" and "nurture relationships" with your qualified leads who eventually become your brand evangelists/paying customers!
So, What is Lead Nurturing?
Lead nurturing is the focused process of engaging with a selected prospect by providing relevant information at each stage of their buyer's journey in order to build a long-term relationship.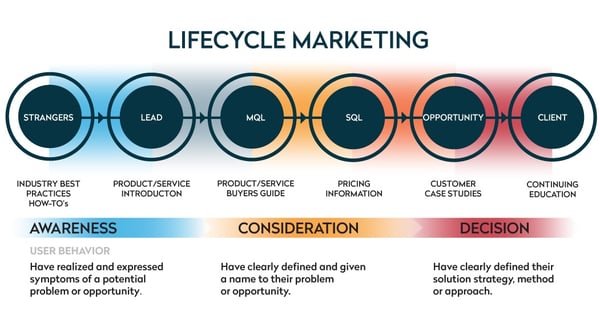 Image Source- Garrison Everest
Businesses that use marketing automation to nurture prospects experience a 451% increase in qualified leads.

How do you create remarkable lead nurturing campaigns? Workflows is the answer! It enables you to take lead nurturing to the next level.
What is a Workflow?
A workflow is an automated set of marketing and/or sales tasks that execute based on a pre-determined trigger source. It's one of the most powerful tools available to modern marketers which aid you to build stronger relationships with your leads, send qualified leads to your sales team, while saving your time & efforts.
9 Simple Steps To Create Effective Lead Nurturing Workflows-

Step 1: Create Buyer Personas
Creating detailed Buyer Personas is the first step for ensuring marketing success. Unless you know exactly who you're targeting your campaigns, content and offers to, you cannot create qualified leads and revenues. Know why buyer personas are so important here.
Learn how to create a great buyer persona here!
Step 2: Solid Understanding Of The Sales Cycle
Have a solid understanding of your sales cycle and break them down into 5 stages of :
Attract -

At this stage, your lead has identified that they're facing a certain problem and are searching for solutions online. You come up in the search results, due to great SEO optimization and blogging strategy.
TOFU(Top Of Funnel)-

Your lead now lands up on your website and through TOFU content marketing tactics like checklists, guides, videos etc. have found solution to their problem.
MOFU(Middle Of Funnel)-

Your prospect now knows what he/she wants and wants to select the best company/provider for the same. Encourage them to choose you by offering MOFU content offerings like case studies and ebooks.
BOFU(Bottom Of Funnel)-

The prospect has now decided that you're a great fit for their requirement. Offer them BOFU content pieces like free trials, assessments, consultation etc to help them be sure that they should buy from you only.
Delight-

Congratulations,your lead has converted into a paying customer! Ensure to provide great customer service, attractive offers, social media sharing etc to keep them engaged and make them customers for lifetime.
Step 3:Set Goals For Your Campaign
Smart marketers set SMART(Specific Measurable Achievable Relevant Timely) goals for all their campaigns.Examples of smart goals can be:
Build trust and thought leadership in early stages of the sales cycle

Quick lead conversions from awareness to consideration stage and then to purchase stage

Re-connect and engage with lost leads to bring them slowly to the consideration stage and further.
Step 4: Mapping Your Content
When mapping your content, marketers must always consider the following things:
What content pieces engage your target audience the most and guide them from awareness to purchase stage?

How can you make each content piece relevant to your different buyer personas?

Are there any missing pieces of content? What can you do to fill the content gaps?
Use the below two matrices to find answers to your above questions-
Content Audit- This is a great exercise where you can segment a matrix by mapping sales cycle, time spent in each stage of the sales cycle, target buyer persona, relevant content available for the buyer persona and missing content pieces.

Lead Nurturing Campaign Map- This is a simpler map which can be created by segmenting each email, the stage of the sales cycle it represents, the relevant content offers, CTA, Landing page, and finally the goal of the email.
Step 5: Send Targeted Emails
Send automated yet personalized emails from a wide choice of readymade email templates to your buyer personas. Keep in mind the below points for a successful email strategy:
Make the subject email and email content catchy and relevant to the target audience.

Add stunning visual elements- images, GIF, videos and even infographics

Add compelling CTA's

Address the recipient in a friendly and personalized way and also signature at the bottom should be from a specific person
Step 6: Build Your Workflow
Follow the below steps to create workflows:
Create a list- choose either current contacts or new leads

Choose a form to trigger workflow

Draft your emails and set the email sequences

Set a goal to automatically tick off leads from the workflow once they meet the predetermined specifications.

Check workflow settings for correct time ranges, appropriate contacts added, remove unnecessary contacts by adding suppression list etc.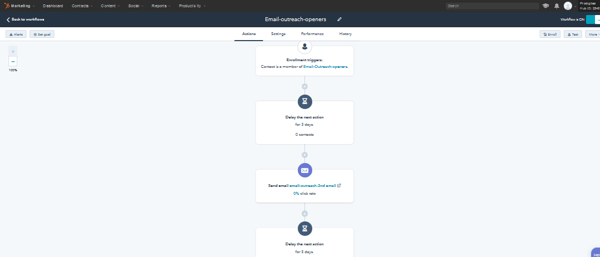 Step 7: Test-Drive The Campaign Before The Final Run
This is a critical step before the workflows are live to avoid errors. Send the emails internally to different team members and ask for honest feedback on the content, design and if it resonates with them as per the goal.
Step 8: Make Your Workflows Live
Once the workflows are setup, get your campaign live! You start receiving data for each email automatically enabling you to track the campaign.
Step 9: Analyze Campaign Results
Smart marketers carefully analyze their campaign results to track if their campaign is turning out as was planned. You can use the below metrics to track campaign results:
Email click through rates

Lead conversions- clicks on landing pages and form fills

Unsubscribes from the emails
From the data received, you can make necessary tweaks in your email body, subject line, visuals etc. Also make necessary changes in the content offer and frequency of the email if you notice no conversions or high unsubscribes.
Benefits Of Using Workflows-
Generate qualified leads

Shorten the sales cycle

Improve sales follow-ups

Better targeted campaigns

Improve revenues

Increase business productivity

Improve tracking and monitor results
Ready to take the lead nurturing leap for improved revenues and marketing ROI? But, worried about the complexities involved in creating a lead nurturing focused workflow? Talk to a marketing automation specialist to create effective workflows for the purpose of lead nurturing. Prodigitas enables modern marketers with an enterprise grade marketing automation software to create effective workflows for improved lead nurturing ROI.