After the Internet, buyers have become more informed and they do their own research before making any buying decision. This has caused a shift in power from the salesperson to the buyer.
"Today's sales organizations must shift from trying to control their internally driven sales cycle and truly embrace the new customer-driven buying cycle - otherwise, prospects will eliminate you from their consideration list and buy from your competition."
TIFFANI BOVA, Salesforce Global, Customer Growth and Innovation Evangelist
Wondering how to sell better and faster? Read here!
To cater to the changing buyer's research habits, salespeople need to follow a more focused approach by aligning their efforts with the marketing team. This has given rise to a new way of doing sales, i.e, Inbound Sales. Inbound Sales is about transforming selling to align with today's empowered buyer.
"59% of B2B buyers explicitly indicate that they do not want to interact with a sales representative as their primary source of research." (Source HubSpot)
How does sales process automation affect the way salespeople work? Here's a detailed legacy salespeople vs inbound salespeople comparison!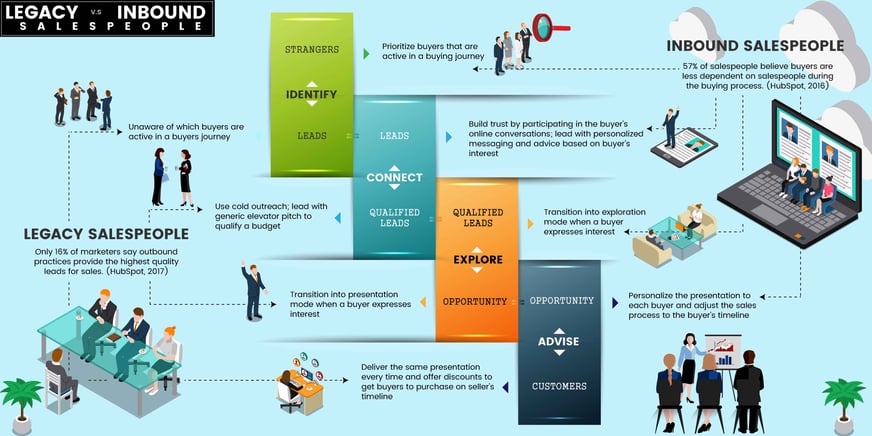 "By 2020, customers will manage 85% of their relationship without talking to a human." (Source HubSpot)
It has become more and more important to proritize buyers, build trust, explore exact needs of buyers & personalize and adjust the sales process to the buyers timelines.
Want to know about the trends, tools & techniques of modern sales process? Read this!
Interested in starting with the Inbound sales? Contact Us!

We, at Prodigitas equip small and mid-size B2B marketers and business leaders with world-class & enterprise grade marketing automation technology, strategy and services to generate demand and manage growth.