Finding the right sales automation tool for your sales team that fits your business needs from a slew of platforms and vendors, each claiming to be the leader in the industry is for sure, much of a task in itself. But if you look into it carefully, it's just a matter of mapping out your buyer's journey and identifying your business' needs to move prospects through that journey fast and efficiently.
Besides that, here's a detailed HubSpot versus Pipedrive comparison for your help. Being a busy sales manager, this will surely make the process of identifying your business' needs and studying the features offered by various sales automation tools easier for you.
Difference Between HubSpot and Pipedrive Sales Automation Platforms
1. Pipeline Management
It is one of the main features of a sales automation tool that you should check for. Pipedrive, as the name suggests, is a sales automation tool that's dedicated to pipeline management. It helps you focus on your pipeline so you can see where you are and take better decisions as to what you need to do next. It helps you move deals further down the funnel so nothing gets stuck or falls through the cracks.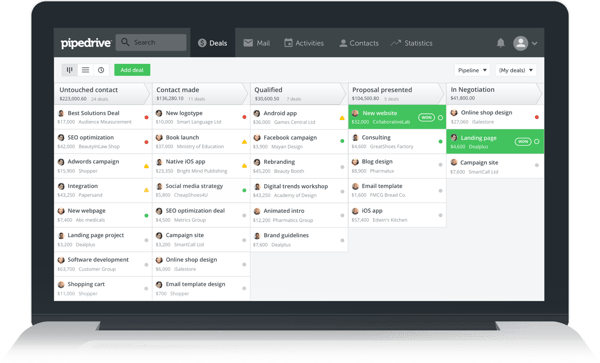 HubSpot, as mentioned earlier, tries to help you manage all your sales activities in one place. It provides great pipeline management features too. You can sync with HubSpot CRM, which is free to track deals that are won, lost, and in progress efficiently! It also helps you know which reps are your best performers and why!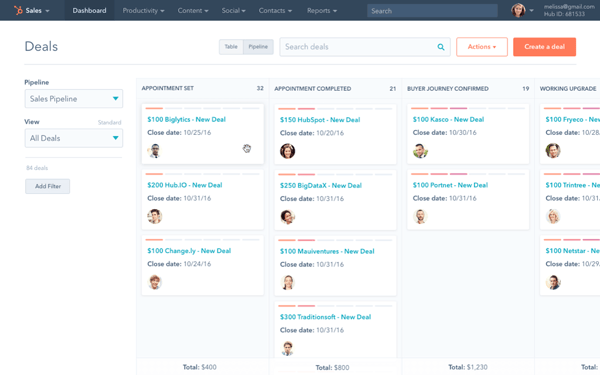 2. Interface
Hubspot is an all in one sales automation tool that lets you save time at every stage of the sales funnel. It's ideal for all business types, focusing on improving business revenues. It has a highly intuitive and user-friendly interface. It notifies you the moment a lead opens your email, helps track all interactions automatically, and organizes all your activities in one place.
Pipedrive is a sales automation tool that does not provide as many features as HubSpot does. It is also easy to use and focuses on your pipeline, thus, enabling you to execute your sales strategies faster and more efficiently.
3. Email Automation
For your team to close more deals efficiently, email automation is paramount. When done right with the help of a right sales tool, it helps you send the right message to the right leads, at the right time, hence creating a win-win situation for your business.
HubSpot provides you with great email tracking and email scheduling features. It also has an exclusive calling feature! You can find a wide range of excellent email templates that can also be customized as per your needs. Hubspot sales automation tool notifies you as soon as your leads open an email, click a link, or download an attachment, making it easy for you to prioritize your outreach and follow-up.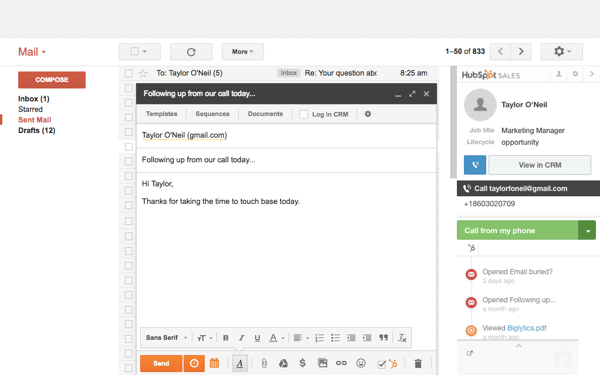 Pipedrive too offers decent email integration and tracking features. It helps you connect your emails automatically to your contacts in the sales tool. It also provides a good deal of email templates to choose from or to customize your own email templates, in turn helping you speed up your follow-up and improve efficiency.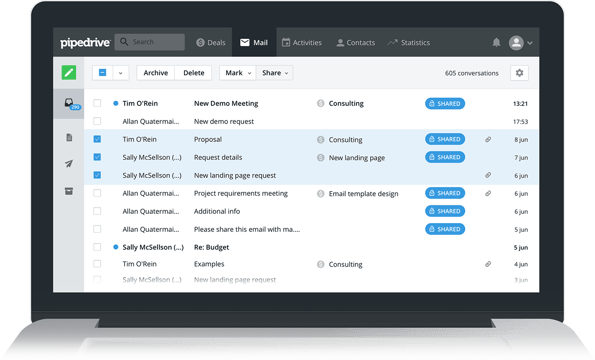 4. Integration Capabilities
Hubspot offers excellent integration with InfusionSoft, Salesforce, Pipedrive, Zoho, Insightly and many other platforms. Hubspot also has its own CRM which is free forever! Hubspot's all-in-one Marketing Automation tool helps you grow your business by leveraging the power of inbound marketing.
Pipedrive has a great CRM system and offers good integration with Salesforce, Microsoft Dynamics & more. Integrates well with marketing automation platforms as well. Pipedrive has lesser features, but it allows you to get add-ons and integrations form its marketplace.
5. Pricing
Both the sales automation tools have free trial versions. Hubspot's paid version starts at $50 per month per user, whereas Pipedrive's paid version starts at $15 per month per user, billed monthly.
Now that you have a clear HubSpot vs Pipedrive comparison, all you have to do is match the features with your business needs, and select the one that fits the best for your business.
Need assistance while selecting the right sales automation tool? Connect with the Sales Experts at Prodigitas! We're HubSpot agency partners. You can also request a HubSpot Sales Pro demo!
Prodigitas equips small and mid-size B2B marketers and business leaders with world-class & enterprise-grade marketing and sales automation technology, strategy and services to generate demand, and manage growth.