Earlier in this series of blogs on GMB Listings, we have covered the following topics:

One of the other major components of your GMB listing is the business description. This is where you see the business description: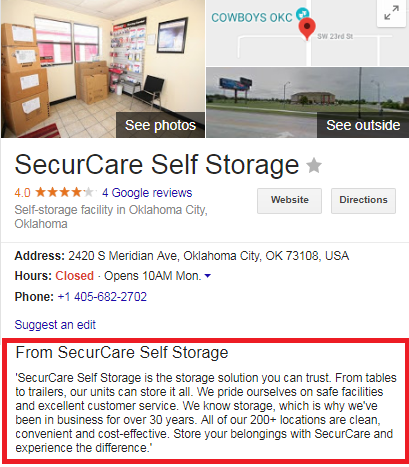 image source- google.com
2. On a Mobile: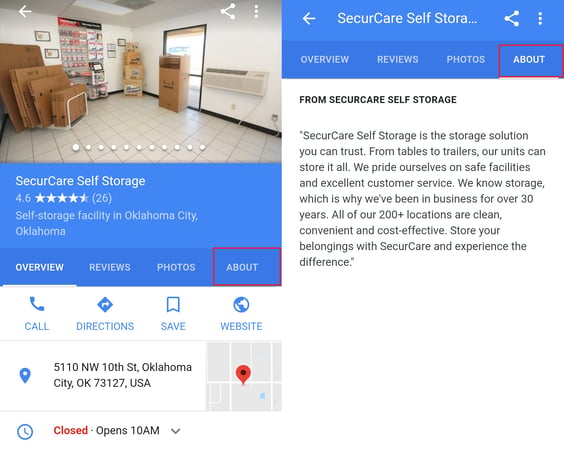 image source- google.com
The importance of a good business description cannot be overstated. This is your chance to write what your business stands for, your USPs etc. Make your business stand out by writing a business description that not only catches the readers' eyes, but also communicates effectively about your business.
Adding business description to your GMB listing:
Adding the business description is critical as it talks about your self storage business, giving the searchers an idea about your services. Follow these simple steps to add a great business description:
Step 1: Go to My Business Dashboard
Step 2: Click on Info and you'll see the option "Add business description". Click on that pencil to write your business description. Remember that there's a word limit of 750 characters and only 250 characters will be visible once the description goes live,so choose your words carefully to ensure that you capture your USP in the first few lines. Searchers will have to click to read the full description.
Step 3: Next, click Apply and then there is a waiting period of 3 days before your description goes live. During these 3 days, Google will verify whether your description adheres to all the guidelines. If your description doesn't feature after 3 days, you can post your query on Google My Business Form
Essential guidelines to write a good business description:
1. What makes your storage facility unique?
You don't need to write flowery prose describing your storage facility. Write what makes your storage facility unique. Give a little bit of history and your mission. Use words like "family owned", "close to highway", , suburb, refer to the number of storage units etc. Anything that will help the reader understand quickly. Keep it short and sweet.
2. Word count
At present, Google allows 750 characters in your business description. However, only 250 characters are visible. So, make sure your most important message is conveyed in those first 250 characters.
What should you avoid in your business description?
1. False / misleading information
2. Low quality / distracting content - example, misspellings, gimmicky characters etc.
3. Special promotions / offers etc. - very important, these should not be a part of your descriptions, example "50% off Summer sale!"
4. Any kind of offensive or inappropriate content
5. Unpermitted content - any content related to sale of dangerous / illegal products or services
Need help with your of GMB listing?
Reach out to us. Prodigitas enables self storage business owners setup modern, functional websites and marketing campaigns for their storage facilities.