In order to compete with larger brands, SMBs now, need to adopt different automation tools. So as a smart marketer, you must be aware of the fact that to keep up with the changing scenarios of the modern sales process, sales automation tool is what you need!
A sales automation tool enables you to automate and simplify the entire sales process. It'll help you manage contacts, nurture and score your leads more effectively, manage your sales pipeline and even track your ongoing sales opportunities.
Just like the other tools, there are good deals of sales automation tools available to choose from. Although they seem to look similar, they are not! They are certainly created to serve different functions and their features differ too.
So let's compare the top 5 sales automation companies, so you know which one of them is the most suitable for your business.
1. HubSpot Sales
Features: HubSpot Sales is an all-in-one sales automation tool that lets you save time at every stage of the sales funnel. HubSpot enables you to send automated, yet personalized emails & follow-ups, create and share email templates, land more meetings, make more deals, and track your entire pipeline. Email sequences, inbox profiles, email tracking, prospecting, calling, meetings, documents, live chat & pipeline management are some of the key features of HubSpot Sales.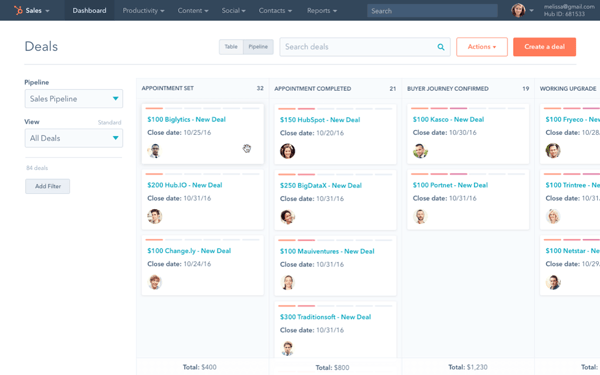 Integration: HubSpot has its own CRM and an all-in-one Marketing Automation tool. Along with that, it offers excellent integration with InfusionSoft, Salesforce, Pipedrive, Zoho, Insightly and many other platforms. It offers seamless integration with Analytics, Adwords, and other tools as well.
Business Size: Small and Medium
Mobile Compatibility: Yes
Free trial: Yes
Price: Starts at $50 per month for a single user. Most Popular - $400 per month for 5 users.
2. Sales Force Automation
Features: Sales Force is one of the best out of all the sales automation vendors out there. With Sales Force Automation, you get its native CRM features along with sales automation. It enables you to see every interaction that any of your prospects or customers has with your business, prioritize and make quick decisions, nurture leads, and track the effectiveness of campaigns as well as your salespeople.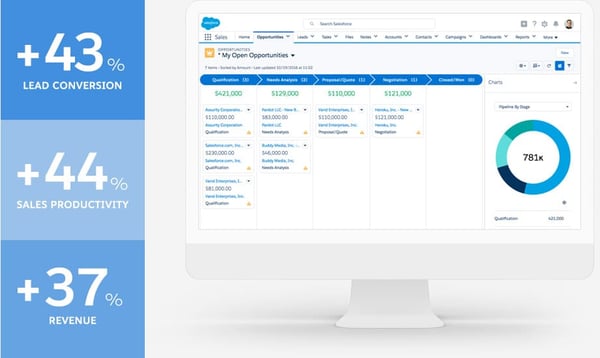 Integration: Sales Force offers add-on CRM and Marketing Automation at an extra cost. Pardot is the Salesforce marketing add-on available at the cost of $1000-3000 per month. Sales Force also offers excellent integration capabilities with most of the other CRM and marketing automation software.
Business Size: Small, Medium and Large
Mobile Compatibility: Yes
Free trial: Yes
Price: Starts at $25 per month per user. Most Popular - $150 per month per user.
3. Pipedrive
Features: Pipedrive is a great sales automation tool that may give you fewer features than HubSpot and Salesforce, but all their features are highly focused, enabling you to execute your sales strategies faster and more efficiently. It provides features like - activity-based pipeline management, pipeline notifications, custom activities, sales reporting & forecasting, 2-way email, and much more.

Integration: Pipedrive has its own CRM system, but no marketing automation software. But you can use it with 100+ apps and integrations that are available in the Pipedrive marketplace. Pipedrive lets you build up everything you need to have maximum output with minimum input!
Business Size: Small and Medium
Mobile Compatibility: Yes
Free trial: Yes
Price: Starts at $15 per month per user. Most Popular - $29 per month per user.
4. SalesLoft
Features: SalesLoft helps you empower your sales team and provides them with all the necessary tools to boost the sales engagement for your organization. It offers amazing email features, enables sales reps to call prospects from anywhere on the platform, record important information to take quick decisions, offers great analytics, and provides productive options for workflow design and pipeline management.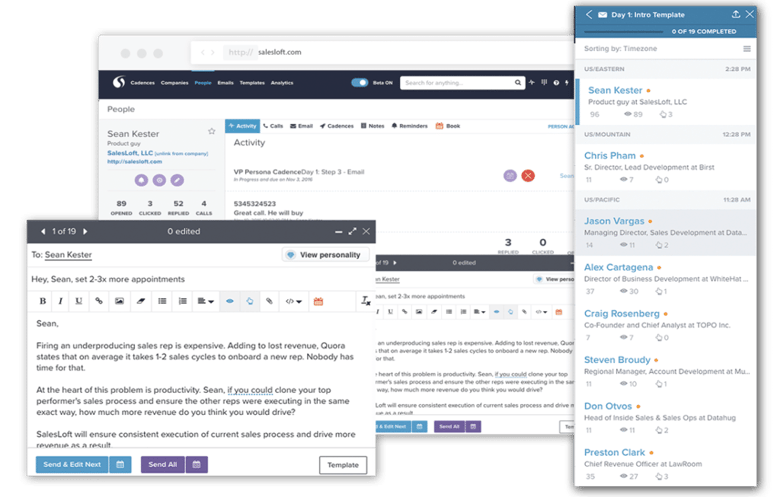 Integration: Provides exceptional sync and integration with Salesforce CRM and marketing automation. It has tier 1 integrations with Owler and CrystalKnows, and tier 2 integrations with Discover.org, Datanyze, Ringlead, Prolead, and many others.
Business Size: Small, Medium and Large
Mobile Compatibility: Yes
Free trial: No
Price: NA
5. Outreach
Features: Outreach Sales Automation, as the name suggests, is a outreach-focused sales automation platform. It helps you drive more meetings with prospects with the help of organized email, voice, and social outreach. It offers necessary insights to manage your pipeline effectively, generate the right type of content at the right time, also helps you to track the growth efficiently! But it fails to provide any business database or lead generation elements.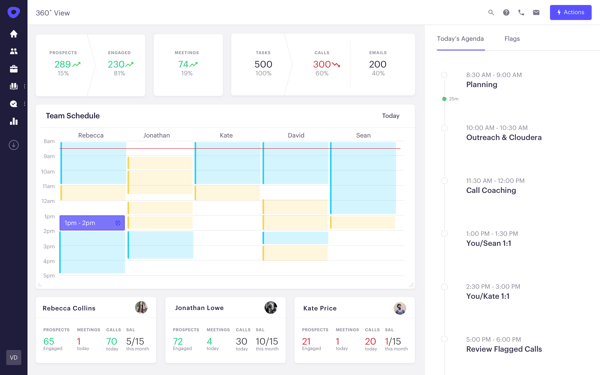 Integration: Outreach provides great integration capabilities with various other platforms. It has a good tech stack with - Marketing Automation, Email Provider, Sales Enablement, Salesforce, Sales Intelligence, and other Productivity Tools.
Business Size: Small, Medium and Large
Mobile Compatibility: Yes
Free trial: No
Price: NA
Now that you know the features and other necessary details about the top 5 sales automation tools, you can try to match them with your business needs, and zero in on the one that suits the best for your business.
Need assistance while selecting the right sales automation tool? Connect with the Sales Experts at Prodigitas! We're HubSpot agency partners. You can also request a HubSpot Sales Pro demo!
Prodigitas equips small and mid-size B2B marketers and business leaders with world-class & enterprise-grade marketing and sales automation technology, strategy and services to generate demand, and manage growth.