If you've been following my blogs, you would now be aware of the growing importance of inbound marketing and how it is helping millions of Marketing Samurais globally to attract and engage with their audience.
Adapting to anything new can be a bit overwhelming at times, ask us about it :/
For those who are considering to adopt inbound methodology or are newbies to the concept right now, let us simplify your lives a bit :) We have compiled a list of 5 best practices in inbound marketing, you must adopt RIGHT NOW!
1. Develop Detailed Buyer Personas
Your buyer persona is the epicenter of your inbound marketing strategy & campaign, so they better be good! The success of your inbound marketing campaign relies heavily on your understanding of the buyer personas. You have to identify your ideal buyer and know them inside out- their habits, goals, demographics, pain points & more. This semi-fictional representation of your ideal buyer can be developed by talking to your actual customers, reviewing their social media profiles, understanding purchase patterns by interaction. Try to understand , what exactly the buyer wants to achieve.Only when you have a clear understanding of your buyer persona, you will be able to create and execute a targeted inbound campaign to offer a tailor-made solution to their problems.
Take a look at a sample Buyer Persona below: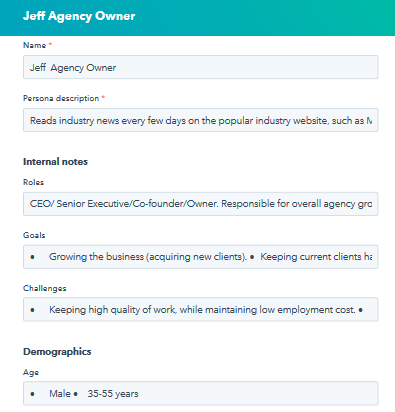 2. Create Remarkable Content
Read this stat: Content marketing generates three times as many leads as traditional outbound marketing but costs 62% less. – DemandMetric. Read more interesting facts about content here.
Creating relevant(as per the stage in buyer's journey) yet interesting content is critical for the success of each inbound campaign. Focus on creating content which resonates with your website traffic to attract visitors and then convert them into qualified leads, thus, generating revenues. Your content must possess the following features at each stage of your buyer's journey:
a) Educational - Don't educate your buyers about who you are but educate them about their problems and how you can offer solutions to those problems.
b) Build trust - Ensure to build a long-lasting mutually rewarding relationship with your audience by offering helpful content as per the stage of your buyer's journey.
c) Help your prospects make smart and well-informed purchase decisions - Remember to offer valuable content so that it is helpful to your audience, thus, engaging them further into the inbound funnel.
3. Optimize Your Digital Presence
It is essential that your inbound marketing efforts are directed in the right direction to boost lead generation. Every interaction that you have with your buyer persona must be tailored to the buyer's journey. Below points must be taken care of while optimizing your digital presence:
Interactive social media pages

Action-oriented CTAs on web site and landing pages.

Making websites mobile and tablet friendly.

Creating forms so they ask relevant questions.

Study opportunities and trends, and take necessary action

Optimizing websites with relevant keywords and content to encourage action and educate buyers.
Learn more about keyword research here.

4. Synergy between Sales & Marketing Team
According to a recent study by Aberdeen group- Companies with a strong marketing & sales alignment get 20% annual revenue growth.
It is important to create a fine blend of your sales and marketing teams to achieve your business objectives. And by fine blend, we mean that both the teams should have complete understanding and mutually agree with the SMART business goals & the strategies to achieve them along with identification and monitoring of key performance metrics.
Check below infographic for the stages of sales and marketing funnel.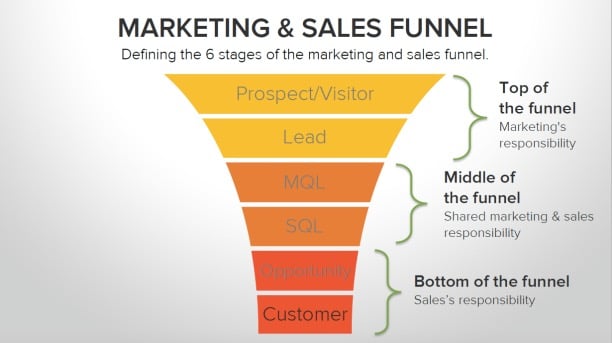 Read about the benefits of aligning sales and marketing.
5. Tracking & Analysis Of Inbound Activities



Carefully monitor and analyze your marketing and CRM software for all the data and trends related to lead generation and conversion. With Hubspot, you can track each inbound activity and study the outcome and ROI associated with it. Depending on what's working best for you, take actions to improve or if required, change your strategy. This will guide you for preparing an action plan to achieve your inbound goals.
The best results from an inbound marketing campaign will be achieved by a complete inbound strategy- from creating interesting blogs, keyword research and optimizing to finally paid advertising. However, to kickstart your inbound marketing campaigns, you can use the above 5 best practices to see desirable results!
Going the inbound way but don't know where to begin? Call us now for an obligation-free discussion!