GMB listings are a great way to inform and engage with your target audience online. It is important to offer interesting content that will not only attract your searcher's attention to your business but also provide answers to their queries, thus, generating traffic for your website. Google has recently introduced videos and photos to be added to your GMB listings.
Google My Business Listings are not only about mundane information and guidelines. It's also about interesting photos and videos of your business! Studies indicate that photos and videos dramatically improve buyer engagement and drive organic traffic to your website.
However, many businesses still haven't done enough in terms of adding relevant photos and videos to their GMB listings. If you thought it's expensive, you need not hire an expensive professional photographer, a smartphone will just do the magic! Your customers can post videos and photos as well, thus, making it a great experience for the searchers to see what your business is all about.

I could add photos earlier too - what's changed?
The Photos feature in GMB listings was available earlier as well, but what's new and refreshing is the Videos feature. You can now add a 30 seconds video to your GMB listing. You can talk about your company USP and present your self storage facility in a manner that it attracts attention of online searchers. Remember to add contact details and address as well!
Follow these simple steps to add Videos to your GMB Listings:
Step 1: Login to your GMB dashboard. You will find "Add Videos" option in the Overview tab or simply click on the blue + sign.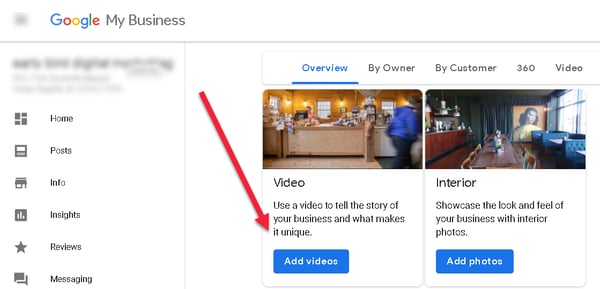 Step 2: Either drag the video or simply upload it from your device.

As per the guidelines, it may take upto 24 hours for your video to get displayed on your GMB listing, however, many videos get uploaded in a few minutes only.
Google has issued a few general Google My Business Video Guidelines to follow:
Duration:

Up to 30 seconds

File Size:

Up to 100 MB

Resolution:

720p or higher
If you upload more than 2-3 videos, you will get a separate Videos tab on your GMB listing, so your potential customers can get a 360 degree view of your business- in terms of space, facilities provided, materials used etc. If you upload videos directly, it will feature in the "By Owners" tab , while , if your customers upload videos, it will appear in "Customer" tab.All videos will appear together in the "Videos" tab.
Remember that customers now have very short attention time spans and a wide variety of choices available. Thus, ensure to add attention-worthy visual content in your GMB Listings.. Please avoid stock photos as they won't add any value to to your GMB listings. Use original and unique videos, location and photos to build credibility and trust. Your customers will appreciate authentic photos and videos rather than stock content.
Wish to setup a GMB listing for your self storage business to enhance engagement with online searchers?
Reach out to us and we'll set this up for your storage facility. Prodigitas enables self storage business owners build sustainable marketing campaigns for their storage facilities.