Any CRM system should be useful to its end users: salespeople, sales managers, marketers, and business leaders. CRM systems have a wide range of functionalities, but these nine features are must-haves for any business that is aiming to organize their systems and improve their efficiency.
Still confused whether your business needs a CRM or not? Read - Does my business need a CRM system?

1. Contact Mangement
Contact management capability is the core functionality of any CRM meaning if a CRM doesn't have it then chances it is not a CRM. All CRM systems allow salespeople to create contact records and store prospect and customer information in a database. However, streamlining contact data entry is the feature you should look for to identify the best systems that can truly improve efficiency.
Judge this feature with ease of use in mind.
2. Deal Stages
Most CRM systems can be customized to operate on a specific sales process. You should be able to program any level of deal stages you have into the software and attach associated values.
It should also be easy to move a deal along the sales process, from one stage to the next. In your CRM, advancing a deal is should be as simple as dragging and dropping.
3. Daily Dashboard
Salespeople need visibility into a number of metrics on a daily basis. Metrics such as their progress to date, how many deals they have in their pipelines at which stages, and what outstanding tasks they need to complete. A performance overview dashboard helps managers also to identify weak points at a high level & to dive into the problem.
Evaluate this function based on visual appeal and simplicity. HubSpot gives you a dashboard to see the overall performance of your efforts as shown below: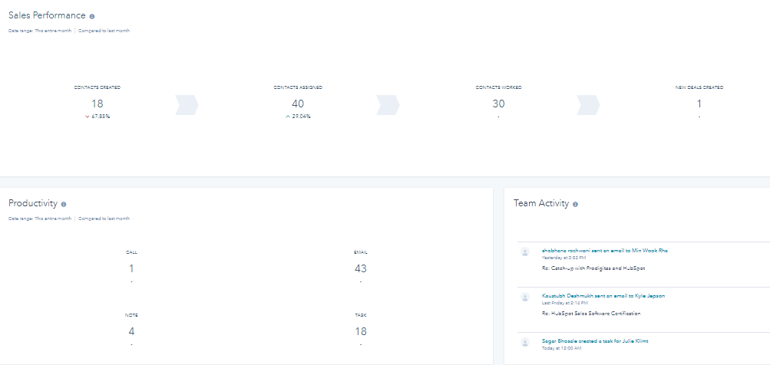 4. Task Management
17% of salespeople cite lack of integration with other tools as the biggest challenge using their existing CRM. (HubSpot, 2017)
A salesperson who has to toggle back and forth between several different systems to view and complete their daily tasks is not a happy person (though this is common). CRM systems that include task management capabilities streamline salespeople's day-to-day workflow and help them keep on top of their follow-up.

5. Content Repository
According to Docurated's State of Sales Productivity 2015 study, salespeople spend 31% of their time hunting for or creating content.
To cut back on wasted time searching for content, look for a CRM system with an embedded content repository. Look for a system that allows salespeople to save their go-to pieces of collateral in one place. And it's not just collateral but emails also. Look for a system that also allows the user to file away customized content, so that it is not reinvented with every new outreach.
6. Automated Data Capture
23% of salespeople cite manual data entry as the biggest challenge using their existing CRM. (HubSpot, 2017)
The primary reason for companies to adopt CRM is to keep a better tracking of prospect touches & the existing customers. But many CRM systems require manual entry of email & call recording by the salespeople which is time-consuming & can result in human error.
It is essential to look for a software that does these steps automatically. HubSpot CRM automatically logs calls made and emails sent, and posts them in a timeline-like view on a contact's record page: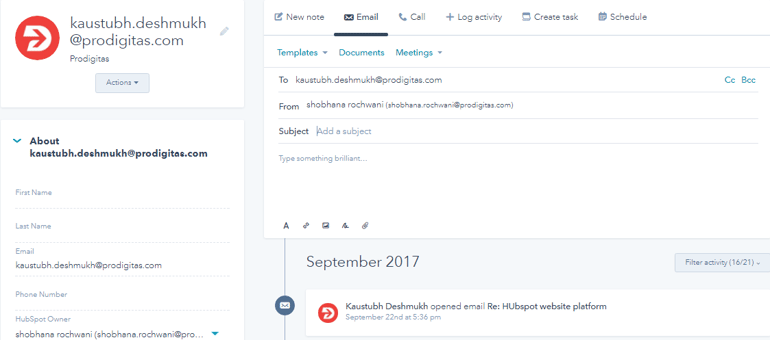 7. Reporting
Gone are the days when team members had to wait for the month end to get the reports of performance to determine the success of the efforts. Now it could be done on demand as and when required. Be sure that your CRM provides reporting features that make it easy to export and distribute the trends that the system reveals at any given time.

8. Mobility
A CRM system that can only be accessed via laptop is bound to annoy your sales team, especially if they're in a role that requires travel. The CRM systems that enable mobility to allow salespeople to log on to the application while traveling so helps increase productivity. Make sure the CRM you're considering have this feature as well.
9. Integration With Marketing Automation
And the most important one, Integration between your marketing and sales platform is crucial to provide a complete lifecycle view into each prospect and client. The goal is to combine the data from these two systems so that no lead is lost due to lost information and lost opportunities.
It ensures that you don't outgrow the system you have invested in & to better understand the relationship between your sales and marketing efforts.
To make sure that the CRM system is beneficial to you, you have to choose one with the features that are right for your business. Also, consider if it can grow with you as your business evolves.
These features are just the foundations on which you can take a decision about the suitability of your CRM system. It is not only a financial investment but also a time investment for your team so picking the right system is essential for your business growth.

Looking for a CRM system with all these features click here!
Need assistance for selecting the right CRM system for your business? Connect with us for a free consultation!
We can work with your marketing and sales teams to understand their current processes and workflows, and help bring in efficiencies by evaluating the right technology for your business and implementing the same. We have a team of certified Hubspot partners and are also experienced in using Salesforce and Adobe Business Catalyst CRM, that will help align your sales and marketing teams with the right technology.