Landing pages are one of the most important elements of lead generation. In fact, according to MarketingSherpa's research, landing pages are effective for 94% of B2B and B2C companies. Landing pages enables marketers to capture leads at a much higher rate by directing website visitors to targeted pages. As there is no distraction visitors are on a landing page for one and only purpose: to complete the lead capture form.

First step towards effective lead generation is to understand the mechanics of high performing lead generation campaigns. So what goes into a best-of-class lead generation engine? Read this to understand the mechanics of lead generation.

These 10 critical lead generation tips cover all the elements of effective lead generation through landing pages & forms so that your campaign is fully optimized to help you generate the most leads for your business.
1. Elements of an Effective Landing Page
Landing pages, also called as "Lead Capture Page," are basically used to convert visitors into leads by collecting contact information from them or completing a transaction. Landing pages consist of: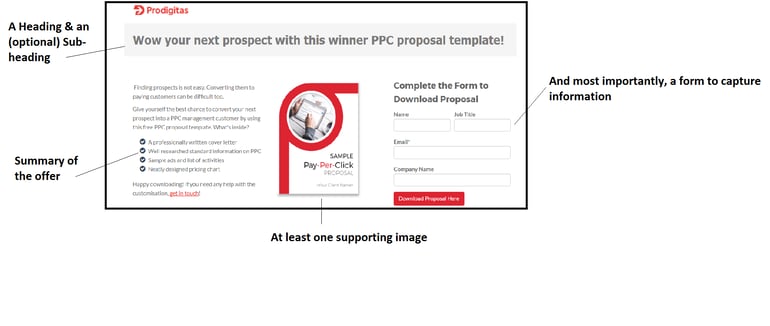 2. The Right Form Length
Most of us wonder how much or how little information should be asked in a form. There is no magic answer to this but the best thing would be to collect only the information that is appropriate for the lead as per the buyer's journey. And the length of the form should justify the value a visitor perceives for your offer.
3. Highlight the Benefits of the Offer
Make it clear in your brief paragraph and/or bullet points what the benefits of the offer are. It's more than just listing what the offer is comprised of; it takes a bit of spin. Instead of "Includes information on PPC," say something like "Well researched standard information on PPC." In other words, convey the value of your offer clearly and effectively.

4. Encourage Social Sharing
On your landing page, it is always recommended to include buttons to enable your prospects to share content and offers. Multiple social media channels & email should be included as people have different sharing preferences. When your offer is shared more, more people land on the page, and therefore more people fill out your form and become leads!

5. Matching the Headline to the CTA
Keep your messaging consistent on both your CTA and the headline of the landing page. When people click on your link for a free offer and find out there's a catch on the landing page, you might instantly lose their trust. Similarly, if the headline reads differently than the CTA, it might lead to confusion, and the visitor might wonder if the CTA is linked to the wrong page.


6. Remove Element of Distraction
One of the best ways to increase your landing page conversion rates is to simply remove the main navigation from the top. That's it!
Once a visitor arrives on a landing page, it's your job to keep them there. If there are links on the page to move about your website, it will distract the visitor and decrease the chance of them converting on the page.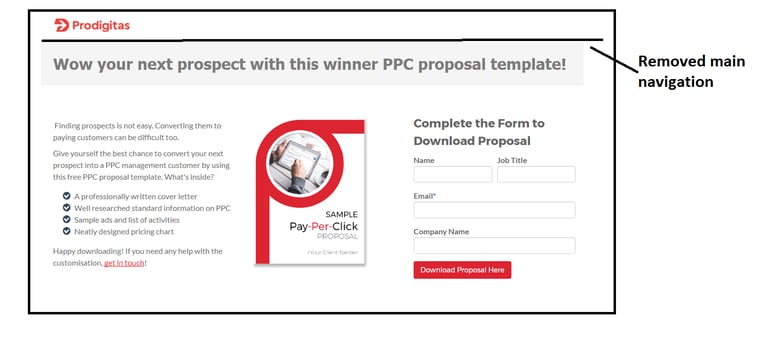 7. More is More
According to a marketing benchmarks report, companies see a 55% increase in leads by increasing landing pages from 10 to 15. The more content, offers, and landing pages you create, more opportunities to generate more leads for your business.

8. To Submit or Not to Submit
That is the question most of your visitors are asking. One of the best ways to increase form conversion rates is to simply NOT use default word on your button: "SUBMIT."
For example, if the form is to download a PPC Proposal, the submit button should say, "Download Proposal Here." Other examples include "Download PPC Proposal," or "Get your free Proposal".

9. Use Links & CTAs Within Offers
Offers are a great way of lead generation in themselves. For example, in this Proposal I can include links to other content offers you can download. As people share this Proposal, they may discover other resources that we offer by the links within the content.
10. A/B Testing
While this isn't a for just landing page or form, it is a great way to increase leads through all elements. A/B testing can be used in calls-to-action, landing pages, email marketing, advertising, and more.
According to HubSpot research, A/B testing your landing pages and other assets can help you generate up to 40% more leads for your business. When done correctly, A/B testing can provide a huge competitive advantage for your company.

These are the top 10 tips to generate leads through landing pages & forms. There are many more that will help in your effort to improve lead quality and increase revenue. To get more tips read this.
Good luck with generating high quality leads!
If you would like to discuss more about best practices of lead generation, connect with the Lead Generation Experts at Prodigitas!

We, at Prodigitas equip small and mid-size B2B marketers and business leaders with world-class & enterprise grade marketing automation technology, strategy and services to generate demand and manage growth.